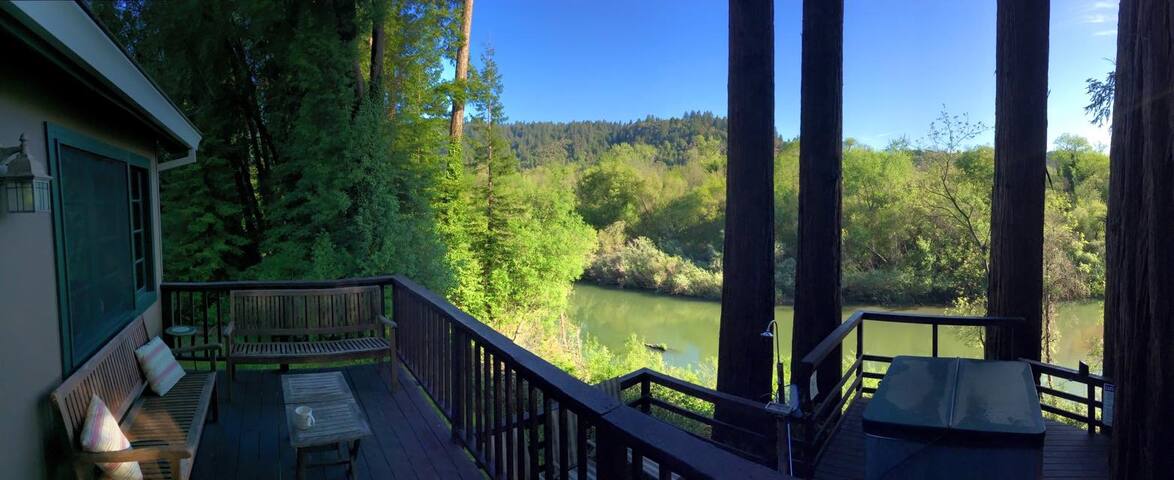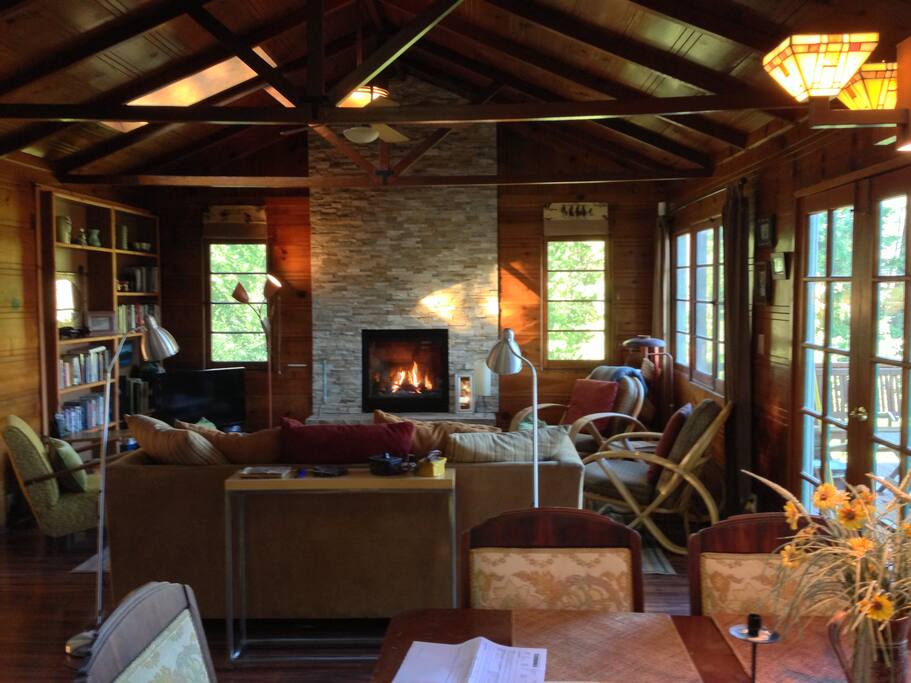 1 baño completo y uno de tocador
1 baño completo y uno de tocador
Privado residencia 3BR en 2 hectáreas ubicado directamente en el río de Rusia en el corazón de la Sonoma Wine Country. Cerca de Healdsburg, Guerneville, Sebastopol y el Océano Pacífico. Sólo 65 millas al norte del puente Golden Gate. Para 6 personas. Impuesto de ocupación temporal del condado de Sonoma 12%. Certificado No. 1387N
Private 3BR residence on 2 acres located directly on Russian River in the heart of the Sonoma Wine Country. Near Healdsburg, Guerneville, Sebastopol and the Pacific Ocean. Only 65 miles north of the Golden Gate Bridge. Sleeps 6. Pet friendly.
Sonoma County Temporary Occupancy Tax 12%. Certificate No. 1387N
El lugar
CABINA DE VERANO. Ubicado cerca de Guerneville y Healdsburg, cabina de Summerland es un perfecto, acogedor 1938 cabaña en las secoyas imponentes con vistas al río ruso cerca de la playa de Steelhead y alquiler de la canoa de Burke. Sus techos abovedados y paredes de pino nudoso le traen de vuelta a tiempos más simples. Caliéntese por la gran estufa de leña. O caliente sus músculos en el jacuzzi grande que está prácticamente en la parte superior del río. Summerland tiene 2 cubiertas sobre el río y una en la parte delantera de la casa. Usted tiene una cocina completa, un comedor y un espacio muy grande 15 x 25 de vida. Hay 3 acogedoras habitaciones, un cuarto de baño con ducha y un medio baño fuera de la habitación principal. El frente de la gran propiedad tiene zarzamoras y un huerto de frutas que tiene manzanas, peras, higos, cerezas y ciruelas. Las habitaciones mantienen una sensación de cabina acogedora con una gran mezcla de decoración de buen gusto y cómodos muebles. Usted puede caminar por el corto sendero al río para un chapoteo o para pescar, caminar 5 minutos río arriba de la playa en Steelhead Beach Park. O vaya a meditar en el puesto circular de secoyas. Tome una corta 15 minutos en coche de Healdsburg o Sebastopol. A cinco minutos de Guerneville. Capacidad 6: BR grande con reina, segunda BR con doble, tercera BR con 2 camas individuales.
SUMMERLAND CABIN. Located near Guerneville and Healdsburg, Summerland Cabin is a perfect, cozy 1938 cabin set in the towering redwoods overlooking the Russian River near Steelhead Beach and Burke's Canoe Rental.
Its vaulted ceilings and knotty pine walls bring you back to simpler times. Warm yourself by the large wood burning stove. Or warm your muscles in the large hot tub that is practically on top of the river. Summerland has 2 decks over the river and one in the front of the house.
You have a full kitchen, a dining area and a very large 15 x 25 living space. There are 3 cozy bedrooms, one bathroom with shower and a half bath off the main bedroom. The front of the large property has blackberry bushes and a fruit orchard which bears apples, pears, figs, cherries and plums. The bedrooms maintain a cozy cabin feel with a great mix of tasteful decor and comfortable furniture.
You can walk down the short trail to the river for a splash or to fish, walk 5 minutes upstream to the beach at Steelhead Beach Park. Or go meditate in the circular stand of redwoods. Take a short 15 minute drive to Healdsburg or Sebastopol. Five minutes from Guerneville. Sleeps 6: Large BR with Queen, Second BR with Double, Third BR with 2 Twin Beds.
Otros aspectos destacables
Contraseña de internet gratis, cable, DVD, en un ambiente muy privado.
Password free internet, cable, DVD, in a very private environment.
Apto para familias y niños
Dormitorio 1
1 cama tamaño queen
Dormitorio 2
1 cama matrimonial
Dormitorio 3
2 camas individuales
No se admiten fiestas o eventos
Horario de llegada: de las 17:00 a las 23:00.
Salida antes de las 11:00
Llegada con acceso libre con lockbox
Terms & Conditions of Vacation Rental
In consideration of the monies received and the mutual promises contained herein, the Manager (Manager) of the subject property hereby agrees to give a license to use the Property to the undersigned, (herein referred to as Guest), on the property and dates described on the reservation form and in the confirmation e-mail, under the conditions stated herein.
Advance Payment: Guest agrees to pay Manager an Advance Payment in the amount specified on the reservation form and in confirmation e-mail. Advance payment is used to secure the property for advance reservations and is due at the time the reservation is made.
Final Payment: Guest agrees to pay Manager the final payment on the date due and in the amount specified on the reservation form and in confirmation e-mail.
Cancellation Policy: For cancellations received within 30 days of arrival, or any time after arrival date, Guest payments will be retained. If the subject property can be re-rented, a pro-rated refund will be issued. Or Guest may reschedule to another available date.
Security Deposit: Guest agrees to pay Manager a security deposit in the amount specified on the reservation form and in the confirmation e-mail. Guest agrees to pay Manager the amount of actual damages to the Property arising from use of the Property, as well as for missing items, excessive clean-up and, if necessary, the cost incurred in removing Guest from the Property.
Check in: Check in begins at 4:00 PM on the Arrival Date specified on reservation form and in confirmation e-mail.
Checkout time: Checkout is NO LATER than 11:00 AM on the Departure Date specified on reservation form and in the confirmation e-mail. Cleaning service will arrive and prepare for the next tenant.
Smoke Detectors: Guests are required to reset all smoke detectors upon check in and promptly report inoperative smoke detector(s) to Manager.
Property Inspections: All problems, including inadequate cleaning and damage, must be reported in writing to Manager within 24 hours of check in for prior guest to be held responsible. Manager reserves the right to enter premises at any time for the purpose of effecting necessary inspections, repairs or maintenance.
Notification: It is Guest's sole responsibility to inspect the Property upon arrival. In addition to inspecting the smoke detectors, Guest agrees to inspect the entire Property to ensure that it is free of hazards and properly equipped. Properties are not equipped for the elderly or handicapped. Guest assumes the entire risk of injuries arising from use of the Property. Guest will ensure that the Property has a secure shower or bathtub mat, and that the Guest takes reasonable measures to prevent slips in the bathroom, on staircases, steps, on balconies and throughout the Property. Guest agrees to take a higher degree of care in the use of the Property because of the age of the structures on the Property.
Hot Tub and Patio: Guest hereby acknowledges that if the property they have reserved includes a hot tub, the undersigned is fully aware that the hot tub and surrounding patio / deck can be dangerous, that the deck / patio can be slippery when wet, and that injury is likely to occur to anyone who is not careful. Guests must rinse off fully so dirt and sand do not enter tub. With full knowledge of the above acts and warnings, the undersigned accepts and assumes all risks involved in or related to the use of the hot tub and surrounding areas. Also tenant must ensure that water level is high enough to keep the water and filter flowing or a $100 fee will be charged. The hot tub is emptied and refilled on average once a month and checked/cleaned once a week. Guest is responsible for making sure that all guests enter the hot tub completely clean and that there are no spillages in the hot tub. Guest agrees that if the hot tub needs to be emptied and refilled as a result of excess dirt sand or materials in the water, Excessive dirt and sand in tub will result in FULL forfeiture of Deposit.

Cleaning: Each property will be inspected and cleaned after your departure. The cleaning fee you have paid will provide for four hours of normal cleaning, this includes the washing of linens and towels, the making of beds, polishing, vacuuming, and hot tub maintenance. You are responsible for all other cleaning. You are required to leave the property in the same general condition that you received it by making sure that all dishes are done and put away, the home is generally picked up and ready to be vacuumed, counter tops are dust and soil free, and all trash has been taken out. ALL TRASH MUST BE LEFT IN THE OUTSIDE GARBAGE RECEPTACLES READY FOR PICK UP. If additional cleaning is required, appropriate charges will be deducted from your security deposit at the rate of $50 per hour.
Telephones:You may use phones if provided for LOCAL and US calls only; YOU MUST USE A PHONE CALLING CARD TO MAKE INTERNATIONAL TELEPHONE CALLS.
Boats and Water Toys: Tenant hereby acknowledges that if the property they have reserved makes available any boats or water toys for their enjoyment , the tenant agrees that they are fully aware that usage of these amenities can be dangerous and Tenant hereby holds harmless Russian River Rentals and the owner of above said property for any and all claims, demands and causes of action by reason of any injury or whatever nature which has or have occurred, or may occur to the undersigned, or any of his/her guests as a result of, or in connection with the usage of boats and/or water toys made available by this property for their use.
What we Supply: The property is equipped and set up as a fully furnished property that will include quilts, comforters or blankets. Bedspreads, linens, pillows, bath towels, living / sleeping furniture and a fully equipped kitchen. You may not take towels provided out of the house, please bring your own beach towels. THE CLEANER HAS A CHECK LIST AND KEEPS COUNT OF ALL THE ABOVE PERSONAL AND REAL PROPERTY ITEMS, YOU WILL BE CHARGED FOR THE REPLACEMENT OF ANY BROKEN OR LOST ITEMS.
What You Should Bring: Beach towels, (please do not take bath towels out of the house), personal toiletries, consumables and all other personal property needed for your stay.
Occupancy: The maximum number of occupants allowed in the Property is specified in the reservation. Children over the age of 3 are counted. Overcrowding or misrepresentation is grounds for immediate revocation of the license to the Property and removal of Guest without refund. The Guest is the person who will occupy the Property. Parents may not book Properties for their children. The Guest must be present at the Property for the time of the reservation and take full responsibility for the Property. Small children are the responsibility of the Guest. Children should not roam free on balconies, hot tub, surrounding property, beach, river, climb on furniture, hang out of windows, or engage in other unsupervised activities. Use is at your own risk. Guest takes full responsibility for all lost or broken items and any damages to the Property of any kind.
Restrictions on Property Use: Guests are prohibited from engaging in any unlawful activity or any other activity that constitutes a nuisance. Violation of this provision will result in immediate eviction without refund, and Guest will be held liable for any damages to the Property, contents and grounds.
Pets: Pets are allowed on the property . Violation of the " Pets" stipulation is grounds for immediate removal without refund.
Smoking Prohibited: All properties are nonsmoking properties and any form of smoking is prohibited inside the properties.
Personal Property Loss: Manager is not responsible for any loss or damages whatsoever due to the loss, theft or damage to Guest's personal property or to personal property owned by Guest's visitors including any vehicles whether owned, leased or rented.
Subletting and Assignment: Guest may not sublet, sublicense or otherwise grant any rights to the Property.
Property Use: The Property may not be used for any activity in violation of local, state or federal laws, or California Insurance rules and regulations.
Attorney Fees: If Manager consults legal counsel or a professional collection service for collecting any amounts due to Manager under this Agreement, Guest shall be responsible for all costs of litigation and/or collection in case of such, including actual attorney's fees.
Limitations on Rental: Manager will not be liable for circumstances beyond their control, including but not limited to appliances or air-conditioning/heating failure, hot tub, electricity, water heater, other mechanical failure, unfavorable weather, disruption of utility services including cable television, etc. There will be no relocation, rental pro-ration or refund in the event of such circumstances. In the event Manager is unable to deliver the Property to Guest because of property sale, property Manager decision, fire, mandatory evacuation, eminent domain or Acts of Nature, or if the property is unavailable because of construction delays or lack of utilities, Guest agrees that Manager's sole liability, as a result of any of these conditions, will be a full refund of all payments tendered by Guest. Guest expressly acknowledges that in no event will Manager be held liable for any other condition out of the control of the Manager, or for any incidental or consequential damages, including but not limited to, expenses that result from moving or for any other losses.
Tenancy: The Guest acknowledges that this is NOT a tenancy for the Property. The Property is not rented for more than 30 days and is taxed and treated as a transient occupancy, akin to hotel accommodations. Property laws do not apply to the license granted herein, and the Guest may be removed as a trespasser immediately upon termination of this license. The Property is rented on regular short term periods and for a significantly higher rate than a non-vacation rental. Often a Guest is scheduled to begin a vacation in the Property on the same day as the checkout day of another prior Guest. If Guest stays even one additional day, Manager would face significant logistical problems with the next Guest, including possible liability. As such, Guest agrees to vacate immediately on the checkout day at 10:30 a.m. Failure to do so will entitle Manager, in addition to all other remedies available to it, to have Guest ejected by law enforcement as trespasser and to physically ! remove Guest and all of Guest's possessions from the Property (for which Guest hereby grants permission and consent) and obtain damages and injunctive relief against Guest.
Indemnification: Guest agrees to release Manager from and against all liability should anyone be injured upon the premises during the term of occupancy resulting from any cause whatsoever, except in the case of personal injury caused by willful gross negligence on the part of the Manager.
Effective Date: Not withstanding any thing to the contrary, this Occupancy Agreement is binding and effective when no signature is required, and Guest's affirmative assent to the terms is expressed by Guest's reservation of the unit. If Guest desires to terminate this agreement due to lack of assent, he/she must do so within three days of the date the reservation was made.
Governing Law: The terms and conditions stated herein will be interpreted by and governed under the laws of the State of California and any action arising out of this agreement shall be litigated in the State of California.
Attorney Fees: In the event of any action or proceeding commenced by any party, the prevailing party in such action or proceeding shall be entitled to recover from the other party all cost and expenses thereof, including actual attorney's fees and cost.
Invalid Provisions: If any provision of this Agreement is held to be illegal, invalid or unenforceable under present or future laws effective during the term hereof, such provision shall be fully severable and this Agreement shall be construed and enforced as if such illegal, invalid or unenforceable provision had never comprised a part hereof; and the remaining provisions hereof shall remain in full force and effect and shall not be affected by the illegal, invalid or unenforceable provision or by its severance hereof. Furthermore, in lieu of such illegal, invalid or unenforceable provision there shall be added automatically as a part of the Agreement a provision as similar in terms to such illegal, invalid or unenforceable provision as may be possible and still be legal, valid or enforceable.
Entire Agreement: This Agreement sets forth the entire understanding of the parties and supersedes all prior agreements or understandings, whether written or oral, with respect to the subject matter hereof. No amendment or modification hereto shall be binding unless made in writing and signed by the parties hereto.
Waiver: The waiver by either party hereto of a breach of any term or provision of this Agreement shall not operate or be construed as a waiver of a subsequent breach of same provision by any party or of the breach of any other term or provisions of this Agreement.
Aspectos que también debes tener en cuenta
Es necesario utilizar las escaleras
Oakland, California, Estados Unidos
Se registró en Diciembre 2010
A multiple home owner with experience renting my places: Summerland Cabin, Bayglow Cottage, all in the San Francisco Bay Area. I'm a former media marketing executive in Oakland. I have friends in many cities, and often like to visit them, while having my own "home away from home…
Idiomas:
English
Índice de respuesta:
100%
Tiempo de respuesta:
en menos de una hora
Descubre otras opciones en Forestville y sus alrededores
Más alojamientos en Forestville: